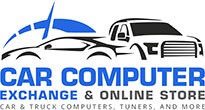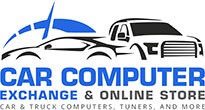 Got a question? Call us!
Monday-Friday 9am-6pm EST
International Callers Dial
Return Policy
CarComputerExchange.com will welcome a return of any product sold on our website within 60 days of purchase. All returns are subject to the following terms and conditions:
1. Time Limits. All sales are final (no returns, credits, or refunds) after 60 days. Any damaged or malfunctioning parts must be reported within 5 days of delivery.
2. Authorization. All returns must be authorized prior to shipment.
3. All units returned are subject to fees on a case-by-case bases. Some cases are as follows:
A.) Any gas module returned that is not a repair service will be charged a 25% Processing Fee, and a $50.00 Programming Fee.
B.) On gas modules returned for repair service that are deemed unrepairable a testing and inspection fee of $125.00 will be charged on modules costing less than $400.00, and $200.00 testing and inspection fee will be charged on gas modules costing more than $400.00.
C.) On all diesel returns there is a 30% processing fee and a $200.00 programming fee.
D.) On diesel modules where the cost of the module is over $400.00 and the module is deemed unrepairable there is a $250.00 fee.
4. Refund Payments. Refunds will be issued in the same method of payment as the original payment. For example, if the original purchase is made with a credit card: a refund will be issued to the same card for the original account.
5. Fees Refunded. Refunds will be issued for the merchandise. Shipping and handling charges, including original shipping and handling charges,taxes,and any charges undertaken for returning an item, will not be refunded.
6. No Refunds without Return. Refunds are only issued after receipt of the item intended to be returned.
7. No Refunds for Certain Conditions. This policy does not cover parts that fail due to abuse, misuse, neglect, alteration, impact, or accident. The company reserves the right to deny a refund if the company deems that it is not responsible for damages to the part.
8. Condition of Return. You must return an item in the same condition as it was received by you. This includes all packaging such as boxes, bags, and tags, accessories such as cords and remotes, certificates, manuals, and warranty cards, any bonus items and any all items included in a bundle. For items with a manufacturer or factory seal, the seal must be unbroken and intact. Items missing a serial number or UPC can't be returned.
9. Excluded Categories. There is no refund opportunity for any customer using a part for purposes of an engine swap or similar performance work.
10. There are no refunds on orders outside the United States.